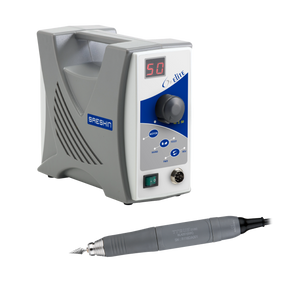 Saeshin OZ Elite Brushless HP Complete Set
The OZ Elite Micromotor system features an advanced controller and a 50,000rpm, 230W brushless rotary handpiece for incredible power-even at low speeds! Provides ample torque (up to 8.3 Ncm) at all times to ensure fast and smooth metal removal. 
The unit also features the thinnest, lightest and shortest handpiece on the market. Ideal for a variety of applications including grinding, finishing and polishing.
System includes the OZ Elite Micromotor controller and H180 handpiece with 1/8" or 3/32" collet, variable speed foot rheostat (FS60), handpiece cradle rest, detachable handpiece holder and replacement fuse. Made in Korea.
Key Features:
Incredible power- even at low speeds.
Dial or foot rheostat speed control.
Auto-cruise function for fixed speed operation with foot rheostat.
Easy-to-read digital speed display for precise speed and torque settings.
Self-diagnostic error display & memory storage.
Error-checking/troubleshooting system with digital display.
Overload protection.
Forward/reverse rotation function.
Handpiece is thin, lightweight, and one of the shortest on market.
Sturdy rubber feet to sit on your bench in the vertical or horizontal position.
One-year warranty.
---
We Also Recommend