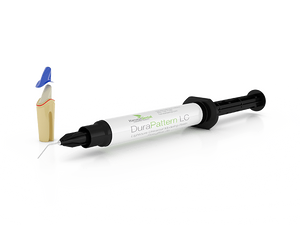 Dura Pattern LC Light Cure Pattern Resin 3x3gm Syringes (3Pk)
Advantage:
Single component simplicity.
Thixotropic flow.
Easy Modeling
Dura Pattern is a one component pattern resin. No mixing, no monomer, just a flowable modeling gel that is easy to control and burns out clean.  Use for detailed cast & press patterns, attachments units and implant jigs.
Ready to use, one-component pattern resin.
Gel stays where it's put.  No running, no mess.
Distribution is easy to control.
Works long > 20 min.
Cures short < 5 min.
Universal curing units (320mm – 500mm)
Dimensionally stable and does not shrink.
Strong and not brittle.