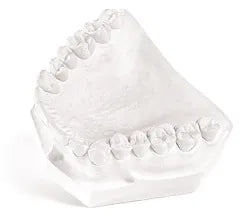 Garreco ARTICULATING PLASTER Type II
Articulating Plaster exhibits similar characteristics to our Dental Plasters, but with a greatly reduced set time. Recommended for articulation use.
• Smooth mixing
• Low expansion (0.19%)
• Excellent working characteristics
Indication for use: Articulation.
Sizes:  25lb, 47.5lb
*Metric units available for international customers. Please inquire.
SETTING TIME: 3-5 min
WATER/POWDER RATIO: 45ml:100g
COMPRESSIVE STRENGTH: 3,500 psi
EXPANSION: 0.19%
- White
---
We Also Recommend