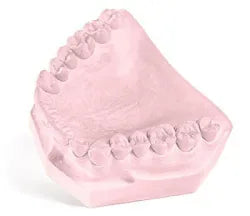 Garreco EXPRESS SET™ Type IV Specialty Stone
ExpressSet is a Type IV specialty stone with an extremely fast set time, smooth mixing consistency, and uniform color matrix. Models can be released from the impression in 5 minutes, producing a precision cast expressly suited for mouth guards, custom trays, study casts, models for opto-electronic/laser scanning with powder, temporaries and denture repairs.
• High compressive strength
• Ample working time
• Moderate expansion (0.15%)
Indication for use: crown and bridge; porcelain; implants; cast partials; high-precision cases
Sizes:  25lb, 47.5lb
*Metric units available for international customers. Please inquire.
SETTING TIME: 60-90 seconds
WATER/POWDER RATIO: 23ml:100g
COMPRESSIVE STRENGTH: 14,000 psi
EXPANSION: 0.15%
---
We Also Recommend