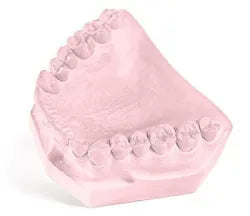 Garreco FLASK IT™ Type III Base Stone
The newest member of the base stone family, allows the technician to make the 2nd and 3rd pours during flasking without vibration. The result is an exceptionally smooth surface which greatly reduces air pockets, bubbles, and valuable time spent removing gypsum around teeth and under-cut areas. This is a must-try for all denture labs.
• Smooth mixing
• Low expansion (0.09%)
• Excellent working characteristics
Indication for use: Flasking procedures
Sizes:  25lb, 47.5lb
*Metric units available for international customers. Please inquire.
SETTING TIME: 9-12 min
WATER/POWDER RATIO: 33ml:100g
COMPRESSIVE STRENGTH: 9,000 psi
EXPANSION: 0.09%
---
We Also Recommend