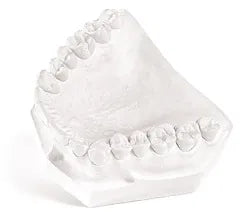 Garreco ORTHOSTONE™ Type III Base Stone
OrthoStone exhibits the strength and accuracy of a quality base stone, plus special additives resulting in a brilliant white color. The superior color, working properties, and hardness make this the product of choice for those
specializing in orthodontics.
• Super white
• Ideal hardness
• Industry leader
Indication for use: Orthodontic procedures.
Sizes:  25lb, 47.5lb
*Metric units available for international customers. Please inquire.
SETTING TIME: 13-15 min
WATER/POWDER RATIO: 30ml:100g
COMPRESSIVE STRENGTH: 9,000 psi
EXPANSION: 0.12%
---
We Also Recommend