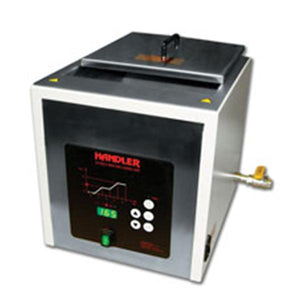 Handler 2010DCU Two Stage 8 Flask Digital Curing Unit
The 2010DCU Denture Curing Unit is a sophisticated curing unit featuring: 
2-Stage curing unit with a digital control panel on which sequences of polymerizing times and temperatures can be programmed as required by user. 
The time of each step can be set between 0 and 999 minutes. The end temperatures at each plateau can be regulated by the user between 32ºF and 210ºF (0ºC and 99ºC). 
To enable the user to see the actual program status at all times, the curing unit has a synoptic display. 
Programming. It is extremely easy to program a heating sequence for the water in the tank. 
Low maintenance and easy cleaning. 
The 2010DCU Denture Curing Unit has a circuit breaker (fuse in power inlet) that protects 
the machine against electric overloads.
Unit Dimension: 13.8" H x 16.5" W x 14.9" D (350mm x 420mm x 380mm)
Tank Dimension: 11" H x 10" W x 10" D (280mm x 255mm x 255mm)
Weight: 45 lbs [17kg]
Power Supply: 115V, 50/60Hz, 13A Consumption: 1500 W
Available in 230V/50/60Hz, 6 Amp – Model 2010DCU-E
---
We Also Recommend