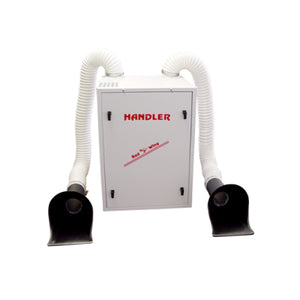 Handler 60UFC Dust Collector
60UFC DUST COLLECTOR
HANDLER unites state of the art drum cartridge filter technology with traditional power and functionality to yield the most cost effective dust extraction system on the market.
Special LOW introductory price, Same Handler quality, Strong Handler performance, Improved filter technology, 33% more filter area, Easy to clean - easy to replace, Collects 0.5 Micron and larger dust particles, Helps keep the work environment clean and healthy, powerful 1/2 HP brushless suction system yields 400 CFM. Comes with two hoses and two fishmouth suction inlets.
115V/60Hz. Also available in 230V/50Hz, 230V/60Hz and 115V/50Hz at additional cost.
Shipping Wgt.: 80 lbs [36.3 Kg] (Ships in two cartons)
Unit Dimensions: 15 1/8" W x 14 7/8" D x 22" H [38cm x 37.8cm x 55.9cm]
Available as a dust collector with a set of 14 shakeable cotton cloth filter bags - Model 60U-D.
---
We Also Recommend