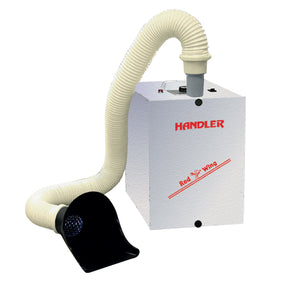 Handler 62-II Super Sucker II
62-II SUPER SUCKER II
Designed to provide excellent suction to a single bench top work position, the 62-II Super Sucker develops 110 CFM ( cubic feet / minute) at a static pressure of 63" of H20 and is one of the most powerful single station dust collectors available. Designed for continuous duty, the disposable HEPA filter bag is easily removed through the front access door with the removal of two thumb screws. A rear internal activated charcoal filter aids in the removal of acrylic monomer odors.
The 62-II Super Sucker is shipped complete with the dust collector with variable speed controlled suction motor, 6 feet of 2-1/2" flex hose and a fishmouth. 115V/60Hz. Also available in 230V/50Hz, 230V/60Hz and 115V/50Hz at additional cost.
Shipping Wgt: 35 lbs [16 Kg]
Unit Dimensions: 10" W x 15-1/2" D x 13" H [ 25cm x 39cm x 35.5cm]
Available as a dust collector and hose only - Model 62-II-0
Available as a dust collector with splash hood - Model 62-IISH
---
We Also Recommend