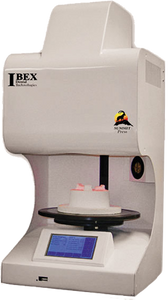 IBEX Summit Press With Vacuum Pump
The SUMMIT Press is a combination pressing and firing furnace with features that let you focus on your work .... not on your oven!

Designed specifically to press e.max®material, the Summit Press delivers all the quality and reliability of the high-end import furnaces, but at a fraction of the cost! Pump Included.
All Touch Screen Operation

Pressing and Firing Capability

State-of-the-art electronics

Radiance Ring™ technology

Rapid cooling fan & USB Port

User-friendly, intuitive design

Ability to edit parameters mid-program, or "on the fly"

Unique firing tray helps materials reach optimum viscosity
Combined with the physical design of the investment ring, IBEX's muffle design and accuracy of the electronics provide
consistently reliable pressings with even the most demanding of materials.

Digital Touch Screen allows quick access to programs. Because of the highly precise temperature control and even distribution of radiant energy within the muffle, programming the SUMMIT Press is simple.

This furnace is so accurate with temperature, you will get the same quality in every IBEX in your lab.
Extremely easy to go from one furnace to another and get consistent results.
Choose from SP1000 - 115V (or) SP2000 - 230V
IBEX Radiance Ring Muffle:
The muffle is the heart of any porcelain oven. It determines how the heat will be distributed within the chamber area and how your porcelain will be fired. Conventional wisdom would have us believe that the Quartz Muffle, wherein the heating element is surrounded by a quartz tube, provides vastly superior firing results over muffles where the heating element is set into refractory material or mounted to a ceramic ring. It is my belief that the superior results purported by manufacturers of quartz muffles are more a function of superior salesmanship and marketing skills than any inherent firing superiority over the open wire muffle. (For more detailed information regarding this argument please read my article "The Myth of Quartz.") The Ibex Long Life Muffle with Radiance Ring™ takes a major leap forward in muffle design. The Ibex muffle achieves in the clear visual results of your porcelain what other oven manufacturers claim to provide you in their sales pitches and clever marketing campaigns, but ultimately fail to deliver.
The Ibex Long Life Muffle with Radiance Ring™ is far superior to anything else on the market. It provides unparalleled consistency of even firings regardless of where on the tray the work has been placed, firing after firing. Combine the ability of this muffle with today's cutting edge electronics, and you have the Ibex Summit Porcelain Furnace. What makes the Ibex Long Life Muffle with Radiance Ring™ far superior to every other design.
---
We Also Recommend