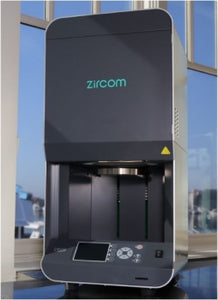 KDF Zircom Plus Sintering Furnace
 Click here to view Product Brochure:          
Zircom Plus Sintering Furnace delivers delicacy and beauty to your zirconia. It features molybdenum disilicide heater that provides clean, reliable, and consistent results. It is also user-friendly with very simple operation. The unit is applicable to various types of zirconia materials. Large furnace allows full mouth case.
Requirement: AC 220V. 50/60Hz. Max. 2.5kVA Dimensions: 17.8 (w) x 28.6 (h) x 21.3 (d) inches Display : 3.5inch LCD Color Display Firing Platform:  Ø95mm (3.74 inch) Weight: 110lbs (50kg) Max Temperature: 1,600°C (2,912°F) Programs: 100 (20 Steps) SD Card Slot: Software Update Program Back Up


---
We Also Recommend