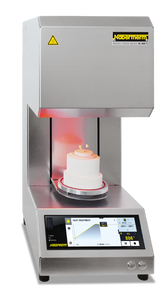 Nabertherm VL 01/12LB Porcelain Furnace 220V-240V (Call For Details)
                       ****** Vacuum Pump Sold Separately *****
The vacuum firing furnace VL 01/12 LB is ideally suited for firing of conventional ceramic veneers under normal atmosphere or vacuum. The all-round heating of the furnace chamber results in a very even temperature uniformity and enables very fast heat-up times. The lowerable, electric motor-driven lifting table ensures easy and convenient charging of the firing chamber. 
A highlight is the especially developed controller D580 with colorful, high-contrast 6.8 inch touch display. It enables intuitive program input on the large touch screen. Programs can be displayed graphically and in tabular form. The vacuum firing furnace is freely programmable. Many manufacturer programs can be downloaded free of charge from the download area on the Nabertherm website and loaded onto the controller.
With the free MyNabertherm App, the furnace can be conveniently monitored online via mobile devices as a powerful addition to the Nabertherm controller. The program progress can be tracked, push notifications provide information about malfunctions.
Tmax

 

1200 °C
Evacuation possibility for processes in vacuum
High-quality, free-radiating heating elements
Very good temperature uniformity due to all-round heating of the furnace chamber
Dual shell ventilated housing made of textured stainless steel sheets for low surface temperature and high stability
Exclusive use of insulation materials without categorization according to EC Regulation No 1272/2008 (CLP). This explicitly means that alumino silicate wool, also known as "refractory ceramic fiber" (RCF), which is classified and possibly carcinogenic, is not used.
Stainless steel shelf for tools, tweezers, pliers & and firing tray, can be mounted to the left or right side of the furnace 
Precise, motorized toothed belt drive of the table with button operation, program controlled opening for cooling possible
Due to generously dimensioned heating capacity and low storage heat, short process times can be realized
Thermocouple type S
Scope of delivery includes a starter set incl. firing tray with ceramic pins for exact positioning of the firing objects, tweezers and silver sample set for temperature calibration
Controller with touch operation D580 specially developed for the process of firing with preset manufacturer programs
Free download of all common firing programs for easy program import via USB stick into the controller without registering a user account
MyNabertherm App for online monitoring of the firing on mobile devices
NTLog Basic for Nabertherm controller: recording of process data with USB-flash drive
Freeware NTGraph for evaluation and documention of firings using ExcelTM for WindowsTM on the PC
Defined application within the constraints of the operating instructions
Additional Equipment
- Vacuum pump
---
We Also Recommend