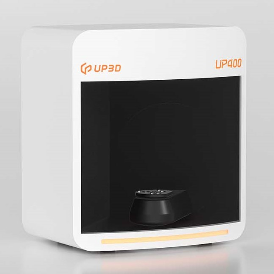 NEW! UP3D UP400 Dual 1.3 MP Scanner
The UP400 dual 1.3 MP scanner is capable of reaching the tightest interproximal spaces, scan bodies for digital implants, and impression pits. The UP400 is freedom, quality, and peace of mind - on a budget!

Dual 1.3 MP cameras
8micron accuracy
12 Sec. Full Arch Scanning
70 Sec. Triple Tray Scan
16 Sec. All-In-One Scanning
24 Sec. 12-Units Die
True Color Texture Scanning
Unsectioned Model Scanning.
All scanners come with all impression fixtures for crown and bridge, implant, impression, and removables scanning.

All scanners come with 1 year manufacturer's warranty and everlasting original owner support.

No re-occuring yearly license fees. You buy it, you own it!

All scanners are open platform. Mix and match with any design software of your choosing.
---
We Also Recommend