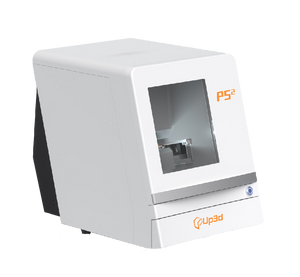 P52 5 Axis Dental Milling Machine By UP3D.
The P52 by UP3D is a 5-axis dry milling machine. The P52 offers a consistent milling performance for zirconia, wax, PMMA discs, Peek . Reliable, precise, and accurate dental milling machine for your entry into digital dentistry and CAD/CAM dental milling machine or expanding your current restoration process.
The UPCAM Basic nesting software is included at no additional cost.
2-year warranty and no annual fees
Smart dental milling machine
5-axis simultaneous milling:

 

material-saving process strategy and nesting method, zirconia disk c-clamp mode.
One piece framework structure:

 

durable in use, stable structure, and anti-dust.
High precision and high-speed milling:

 

max feed can reach 3000mm/min and max rotate speed is 4000-6000 rpm.
UPCAM software made just for P5:

 

customized milling strategies corresponding to the customer's requirement.
Auto calibration:

 

most convenient and smart control system among the dental milling machines.
Wide applications supports multiple restoration cases.
PMMA denture
Zirconia coping
Wax framework
Peek

Axis: 5-axis simultaneously

Milling Range: X/Y/Z: 165/135/70mm A: ±30° B: 360°

Milling Mode: Dry Milling

Max Rotate Speed: 40,000-60,000rpm

Max Feed Rate: 3,000mm/min

Tools Changing: Automatic (air pressure>0.5Mpa)

Spindle Cooling: Air compression (Air pressure 0.25-0.35MPa)

Milling Materials: Zirconia, wax, PMMA, PEEK and soft material

Milling Time: Zirconia(coping): 10min, Wax: 4.5 min. Zirconia(crown): 13min, Wax: 5.5 min

Tools diameter: 2mm, 1mm, 0.6mm

Input Voltage: AC 100-235V, 50~60Hz

Dimension: 620x430x560 (mm)/ 25x17x22 (inches)
---
We Also Recommend