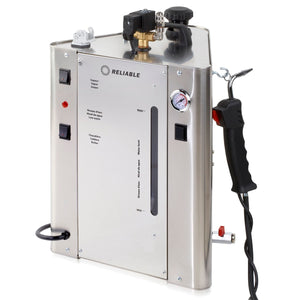 Reliable Dental Steamer 7000CD Steam Cleaner
The 7000CD is our largest Made in Italy, manual fill unit with a 9L boiler tank, 4.5 bar pressure, 105C steam temperature, and all stainless steel construction. It features 4 safety systems, a blowdown valve to help maintain its life and performance, a heavy-duty contactor switch, and the 3000DA steam gun. With the 7000CD you can also add our optional (#1300IA) water feed valve. The 7000CD is for those that demand the very best performance and need the extra water capacity.
The 7000CD is equipped with an external solenoid for complete steam control. The solenoid allows the user to manually adjust steam output for complete steam control. The quick release fitting allows for easy removal and connecting of a wide variety of accessories.
Our professional boilers are designed with the best materials, quality and craftsmanship. The tank is made of high-grade stainless steel, eliminating the chance of rust and contamination of the water supply. The copper element is an excellent conductor, and delivers an even heat dispersion inside of the tank. With a 9L boiler, the large tank allows for up to 8 hours of continuous steaming. 
---
We Also Recommend