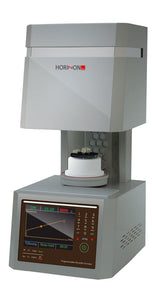 Shenpaz Horizon Press Porcelain Furnace
 Horizon Press
All horizon models are designed with a unique temperature control muffle that is highly accurate and guarantees quality firing every time.
Shenpaz non-aggressive pressing technology is designed to obtain higher density and soften one-blow impact—especially successful when pressing zirconia and metal.
Quality
Restorations
PRECISE TEMPERATURE UNIFORMITY & CONTROL with firing temp. to 1180ºC (2156ºF) and accuracy of ± 1ºC

FULLY ADAPTABLE PROGRAMMING handles all ceramics and pressable materials on the market today

NON-AGGRESSIVE PNEUMATIC PRESSING SYSTEM prevents cracking and achieves greater density
Time
Saving
FULL CUSTOMIZATION of cooling rate and hold time; pre-programmed tempering process adjusts for cooling rates of zirconia, metal and porcelain materials.
Energy
Efficient
ENERGY SAVING features:
Firing chamber lined with superior insulation
Chamber entrance tightly sealed to hold temp. ready for next cycle
Single phase electrical supply for low wattage consumption.
Additional Features
Intuitive full color digital display
200 firing and 50 pressing programs
USB port for fast transfer of program data
Acoustic signals that alert to furnace status
Special e-base cylinder base adapted to IPS e-max® products
Horizon standard firing furnace available with 200 programs
Specifications
Dimensions: 30x28x63cm (12"x11"x25") (WxHxD)
Weight: 20 KG (44 lb)
Display screen: 5.7"
Firing chamber: Ø 95mm x 65mm/h (Ø 3.7"x2.6"mm/h)
Firing table: Ø 90mm (Ø 3.5")
Temperature range: from 100°C to 1180°C (212°F to 2156°F)
Heat rate: 10-120°C (50-248° F)/min 
Horizon Press
Pressing: 4.2 bars
Pressure: 4.2 Bar Weight: 25.5 KG (56 lb)
Material: Durable Kanthal* spiral material
---
We Also Recommend