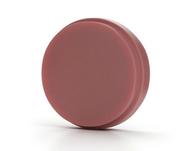 TriLor Techno Polymer Framework (Pink ) 98.5 mm.
"TriLor is a techno-polymer consisting of thermosetting resin and a multidirectional reinforcement of fiberglass by Harvest Dental is a real game changer for implant supported restorations and substructures. The material's biocompatibility, light weight, metal free, and force absorption properties make this a great solution for so many restorative protocols, which produce benefits to the laboratory, dentist and ultimately our patients. Being able to mill these bars and understructures at the laboratory offers a great deal of control, something many discerning dental laboratories want - while significantly reducing their costs, making this implant supported prosthesis significantly more profitable for the laboratory."
Daniel Alter, MSc, MDT, CDT
Harvest Dental Products, TriLor Technical Advisor
Character No need to mask TriLor® Pink with opaque Freedom to make your bar slightly larger and stronger Allows you to design right up to the deture.
---
We Also Recommend